---
Protein; by now we all know why we need it. Protein, is not only essential for building muscle but also has a vital role in forming other physical structures such as connective tissue, and blood vessels. It addition, protein is essential to creating hormones and enzymes that are vital to essential physiological processes in our bodies. OK, so we know we need it, but that leads to the next question; just exactly how much protein is needed to stay healthy and perform at your sporting best?
How much protein do I need?
Like most nutrition questions, the answer to this is "It depends".
The amount of protein you need is dependent on a variety of factors including:
Your age
Your health status
How active you are
What sports you do
What your goals are
What are my protein requirements?
Protein needs are usually given as how many grams of protein you need to eat, per kilogram of body weight each day.
For example: The protein requirements of someone during general training is given as 1g/kg of body weight. This means, a female who weighs 60kg will nee 6g of protein per, while a male who weighs 90kg needs 90g of protein per day.
Check out the table below to see the protein requirements of different groups of people: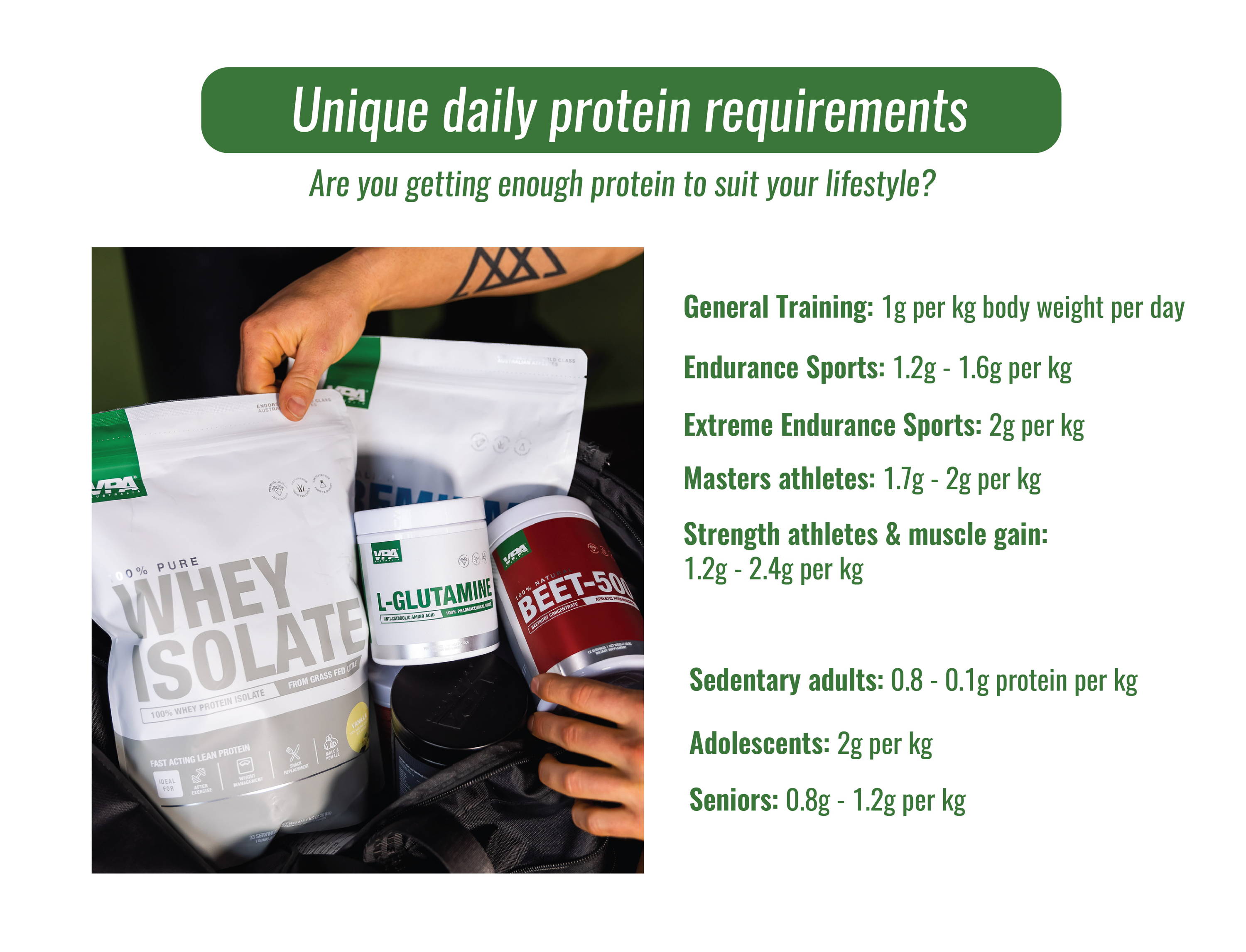 ---
Do I need to use a protein supplement?
It's entirely possible to hit your daily protein requirements using food alone. However, here are some reasons supplementing with protein may be beneficial and help you reach your daily protein goals:
High protein targets can be hard to hit
Whether you have large protein requirements because you're a heavy strength training man, or you're requirements aren't that high but you find it difficult to plan your food to hit your targets, a protein shake may help get you there.
Whey protein stimulates muscle synthesis
Due to its high leucine content, whey protein consistently outperforms other protein sources when it comes to stimulating muscle synthesis for repair and growth.
With the convenience and portability of a protein shake, there are literally no excuses for not being able to hit daily protein targets.