---
DONATION UPDATE:
Thank you for all your support for our initiative. We have sold over 466 of our Limited Edition 'Mulganai' Stainless Steel Shakers since the release and a portion of each shaker sold have been made for the Indigenous Literacy Foundation providing books and literacy programs to remote communities in Australia.
---
Keep your health and fitness goals in check while supporting and celebrating indigenous culture, art, and history with our VPA 'Mulganai' Limited Edition Shaker.
Last year, our team reached out to Emma Hollingsworth, the woman behind Mulganai, to collaborate on a special project to celebrate aboriginal art.
Emma is an emerging and well noted, young, Australian indigenous artist and model who aims to promote meaningful conversation in celebration of heritage and culture through her series of artworks. Her eccentric and vibrant paintings and works of art are often a burst of colour with abstract fluid patterns that share her story and culture.
---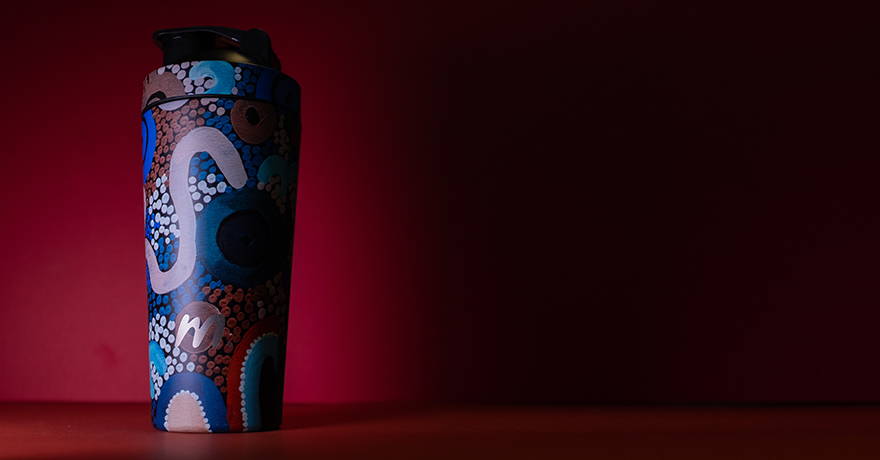 ---
"

Mulganai

means morning star and that stuck with me because I see that as a symbol of hope... and it's something I brought into my artwork."

 
Tell us about Mulganai- what does it mean?
Mulganai means morning star in language. The name was given to my mother when she was pregnant with me as a blessing, then my mother gave it to me. I've been an artist my whole life however in 2016 I applied to be a part of a program called DYA which was basically a program to nurture Indigenous kids and their art form and then at the end of the program we hosted a group exhibit at the Queensland Museum in Brisbane. This gave me the confidence to pursue art as a career and I haven't looked back since.
What inspired you to convey your story and culture through art?
I've been telling my story through art since I was a child. It has always been an outlet for me. After taking part in the program with DYA I was able to get out of my shell and be among other creative kids who I could relate to as young Indigenous people. I felt seen and like I was a part of something. For once I saw a different perspective, and that was that there was a place for me in the world and I could pave my own path through art.
I wanted to show the world that Indigenous people were still here and we are thriving. We have a wealth of knowledge and culture within us, and I wanted to paint the story through my eyes as a young person.
---
Meet Emma and get to know the meaning of her featured artwork- Resistance
---
We believe the voice of an artist shapes attitudes and facilitates positive change in the community around us. How do you hope to bring more awareness towards Aboriginal art and its rich culture?
I believe there's been a change in the Australian community in the past year and that is that more and more people are opening their eyes to the rich heritage all around them. If I just keep doing my thing and being real, being who I am, then I believe more people will come to view and not only learn about Indigenous art but respect it as well. There's been a boom of Indigenous art online recently which I believe has really helped bring it to people's attention as well, who may not otherwise have known that such art was out there.
What do you call the piece of artwork you created with VPA?
The piece is called Resistance and it represents strength in the face of adversity. It represents climbing the mountains we face in life and along the way seeing growth and humility so that we can come out on top a better version of ourselves.
---
What is your advice to the youth who wish to pursue a creative path in the arts today?
Find what you love doing and just do it. Utilise social media- it's a powerful platform these days. Think less and do more and when things get tough or they slow down just keep persisting. There were so many times I wanted to just quit and find a real job and be bitter but I kept persevering and I broke through that glass ceiling. Don't listen to people when they're negative. Train your mind to be strong and believe in yourself 100% because when bad things happen or people try and take you away from your path you know you can back yourself always. Also remember to have fun and take moments to enjoy your life and your journey.
---
What we love about her work is that it relates to all people though we may be in various stages in life, we hold a connection of working to be better as we go along our journey. VPA Australia has always stood for people who live to do more and choose the better version of themselves every day which is something that is reflected in Emma's work.  
Emma hopes to give hope to her mob and indigenous communities and especially inspire the youth to be hopeful in their journey and pursuit of change and self-improvement.
Know more about Emma Hollingsworth on her website and socials.
---
---
---