School holidays have seemed to come rolling in quicker than ever- it only feels like yesterday we were trying to keep those darling children entertained at home in the last school holidays (edit: if you are from Victoria of NSW, you were most likely keeping them home very recentlywith the snap lockdown!). But if you are anything like me, the thought of staying around home for an entire 14 days does not sound ideal- you will have already organised your next trip away from home. I know you probably feel like you have only just started to get back into the fitness movement- it's only been two weeks since the GYMS have officially been able to open up again, so you don't want to lose your momentum. Here are some great ideas to stay fit while travelling:
The Australian Government had some guidelines that I believe are more important now than ever before, that is to think of movement as an opportunity, not an inconvenience. This is where any form of movement is seen as an opportunity for improving health, not as a time-wasting inconvenience. The advances in technology these days has meant that a lot of the activities that humans once did that involved movement have been reduced significantly. But, years and years of human evolution has shown us that we, the hunter and gatherers, need to move our bodies for optimal health. Instead of opting for a cruisy holiday down by the beach, why not take the tents and bikes out and camp down the river. Not only will you have ample more opportunities to move your body but you will be in abundance of fresh air, Vitamin D and be engulfed in our beautiful scenery.
---
Simple ways to be active every day in as many ways as you can whilst travelling include:
Instead of taking the lift, opt for the staircase if you are staying in a hotel and get that heart beat up!
Choose to park the car a few blocks away so that you need to walk more than a few metres.
Try some body-weight exercises such as planks, sit-ups, mountain-climbers, jump-squats, forward and backward lunges, push-ups Aim for 60 seconds of work with 30 seconds of rest in between.
Aim for a sunrise or sunset walk and witness Mother Nature's beauty.
Make use of the time you spend lining up in ques- add in some sumo squats or lunges to help pass the time.
Pack a super light resistance band into your suitcase- these cheap and easily transportable pieces of equipment allow you to do pulling movements that are sometimes hard to do without weights or a pull-up bar. If you haven't got one- just try to make do with any of the equipment that you have with you. For example: door frames for chin-ups!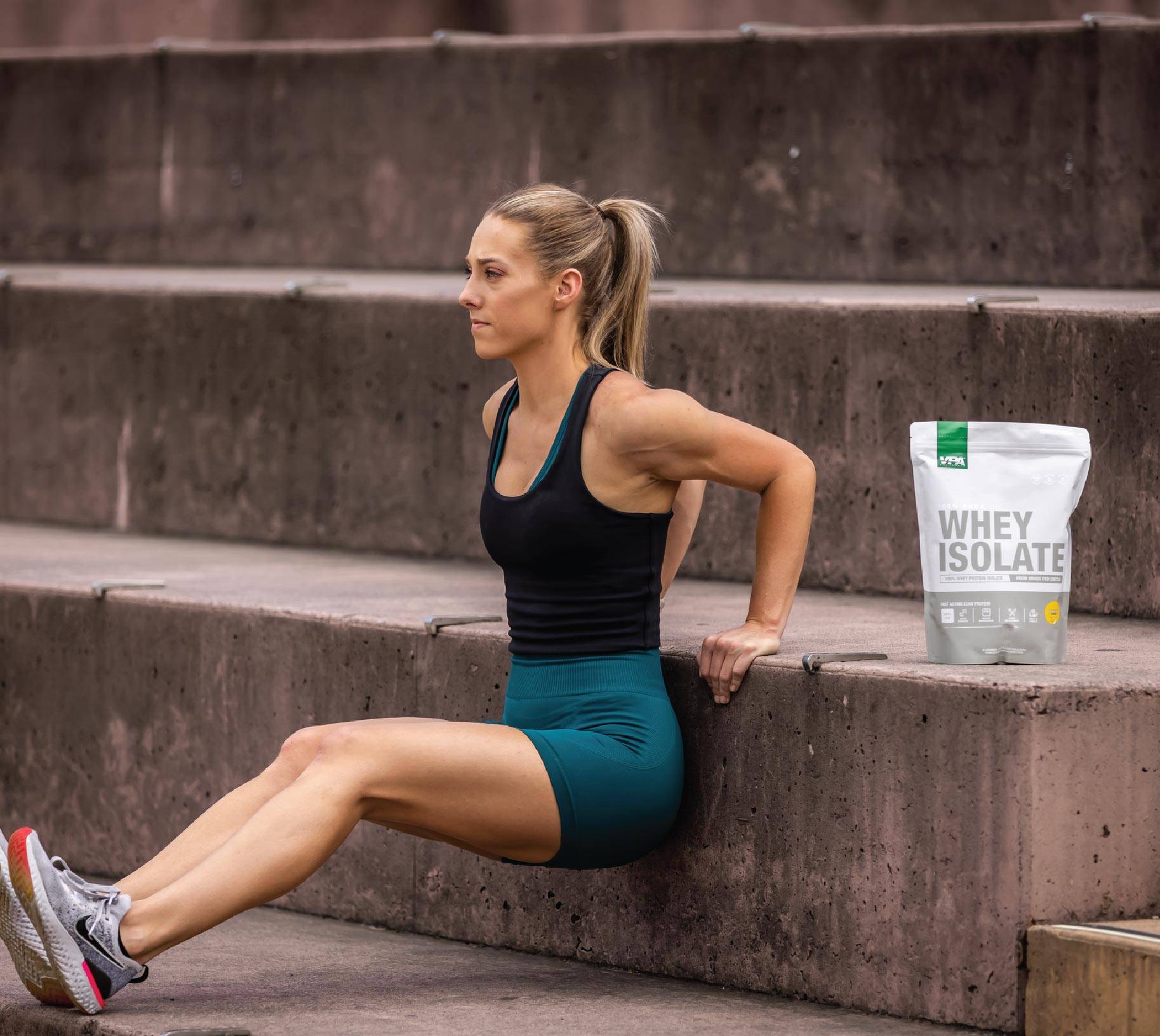 Staying fit whilst travelling also involves ensuring that you are eating well, you don't always need to be eating high-sugar and salt pre-packaged foods. Being prepared with your snacks is the best way to avoid making those irrational decisions fuelled by hunger. Try some of these easy snacks:
Sliced vegetables such as capsicum, cucumber, tomatoes and celery are a great combination with a tzatziki or hummus dip. Not only are they cost-effective and tasty, but they are full of fiber and essential vitamins and minerals.
Travel Mix, if you are travelling by plane, and thus can't take the fresh foods onboard, making your own home-made travel mix, will save you spending big dollars on the plane. Grab your favourite nuts and seeds, think chia seeds, almonds, pumpkin seeds, macadamias and mix in some dried cranberries, honey and a pinch of cinnamon. Put down some baking paper and roast in the oven for a couple of minutes at 160 degrees celsius. Not only will you satisfy your instant hunger, but this mix can last up to a month in an airtight container.
Chocolate Chia Balls:These chocolate chia balls are a fantastic way to curve that sweet fix. Place 1 tablespoon of chia seeds and 3 tablespoons of water in a bowl, stir well and leave for 10 minutes to form a gel. Combine macadamia nuts, almonds, coconut, 2 tablespoons of Natvia, sugar-free maple syrup or honey, 2 tablespoons of cacao powder, 30 grams of butter and the chia gel mixture into a food processor or Thermomix. Process until well combined. Roll the mixture into balls and drizzle over some 95% Lindt Dark Chocolate. Yum!
It's also important that during this trying time, we ensure that we are practicing Covid Safety. These include:
Keeping keep a safe distance from other travellers (1.5 metres)
Try limiting your contact with frequently touched surfaces, such as handrails, shared cooking facilities or recreational areas and if you can't avoid contact; making sure you sanitise regularly.
Keep a pack of face masks, hand sanitizer and disinfectant wipes in an easy to reach place at all times so that you are prepared.
Clean your hands often- especially after fueling your car!
Enjoy your travels!